Tecnopool is ready to redefine the oven concept: the next generation will consume less and cook better.

The growing demand for food, the development of new markets in countries with emerging economies, and the constant demand for performance and profitability in mature markets continuously drives the food industry towards the optimisation of technological processes.

Such progress involves all sectors: industries such as refrigeration, cosmetics and packaging have welcomed new technologies decade after decade. The same applies to the cooking industry, which has experienced the development of sensors, airflow mechanics and the digitisation of controls and programmes. Even the heart of the oven, namely the very dynamics of heat, has seen important innovations after having remained substantially unchanged for centuries. These include the UK-designed impingement oven and French clean-room technology. The next evolutionary leap in cooking technology, however, will be taken by an Italian company.

Davide Deppieri, a master baker and R&D consultant for Tecnopool, explains, "Over the past few decades, industrial baking technology has still been very much linked to the needs of a growing industry: combining standards of quality with high productivity, a good shelf-life and the optimisation of treatment times was obviously very difficult. In recent years, needs have changed and a much more sensitive food culture has taken hold. This scenario presents us with new opportunities not to be missed when it comes to rethinking baking technology. This is because baking does not simply involve changing the cooking temperature or mode, but it is a process that radically changes a product in a complex way. If properly done, it can greatly improve the end quality of products. The British use a wonderful expression to describe the potential advantage of good baking: oven spring."

In order to seize opportunities that really improve baking, over the years Tecnopool has researched and perfected its exclusive spiral technology.

Mr. Deppieri continues, "I joined Tecnopool after having collaborated with the company and tested their products for years working as a business owner and setting up plants, precisely because I have first-hand experience of the potential of the spiral oven.
 It is currently the only technology that can make a difference not only in terms of production performance but also quality."

Deppieri explains, "The advantages are many, from efficiency to less space consumption on the ground, but the first and most important for me is that extra push to the product. I fell in love with these ovens while I was starting up a very large bakery plant near Ravenna. Usually the difficulty is to have sufficient bread growth in the first baking phase in conjunction with the starch gelation: in that case I found myself having to calibrate the system to contain its development, because at the end of baking the forms were too much voluminous. Practically the problem that every producer would like to have."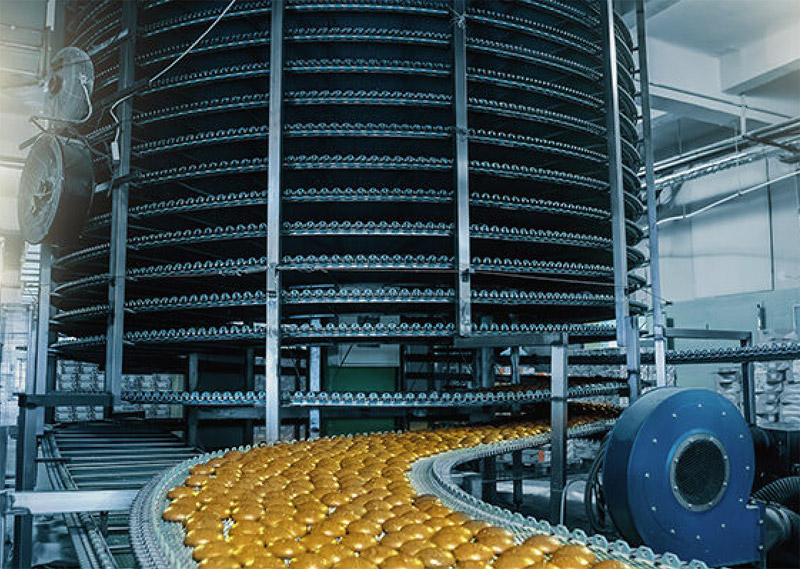 The credit goes to high-precision baking, achieved by combining all three heat transmission modes: these ovens use conduction, convection and radiation, distributing heat perfectly uniformly in the spiral chamber with great uniformity. Heat transfer is so efficient and uniform that it does not even result in the typical differences in baking normally found at the beginning and the end of the production cycle.

Mr. Deppieri adds, "In tests performed last summer, the baking was so precise that we did not notice any significant differences, not even when loading a single piece instead of a full load. We tested the ovens with all types of leavening agents, from organic (bakery products) to chemical (cookies and savoiardi) and physical (taralli, puff pastries, etc.). In all cases, the results proved to be much higher than the standard ones for the industry to the extent that we will soon start testing even more complex baking products such as "panettone", all butter and with only natural yeast.
In all tests we observed a much higher centre of gravity during baking, optimal distribution of moisture, excellent dimensional development and a much more uniform internal texture. This also entails an improved life for end products, with more uniform cooling slower and improved moisture performance over time."

Another decisive factor that Tecnopool will use to change the market is the high heat efficiency of the new ovens. Thanks to much reduced thermal inertia and more effective heat transmission with diathermic oil, they offer not only significant reductions in consumption but also flexibility of management that is unheard of with traditional ovens. The same applies to the risk of fire.

Mr. Deppieri continues, "On Sundays, some ovens need to be turned on in order to be ready for production on Mondays. You can imagine what it means to a company to have an oven that can be heated to the right temperature (or cooled) in 20-30 minutes. Moreover, instead of stopping the production line for a day in order to clean the oven, this can be done half an hour after turning it off."

Mr. Deppieri concludes, "It has been clear to us for some time that we can reap huge benefits with this technology in terms of energy, management and quality: the solutions we are about to launch are already in operation at many of our customers' premises, developed on but a case-by-case basis.
The market currently has an urgent need for such innovations. Just consider bakeries: in the last century, bakery products were a staple food in people's diets, and the huge need for quantity may have been a hindrance in terms of quality. We now consume much less, but we demand much higher quality from products such as bread and the like.
Also, for this reason, I have already noticed a strong curiosity towards these new devices: we all clearly believe that as soon as we launch them on the market, things will quickly change. I am very pleased that the third generation of our ovens is now ready: we have figured out how to develop them in a modular system in order to standardise the customisation of the ovens according to different recipes and various types of leavening. I have no doubt that as soon as we have installed a few ovens, we will see an increase in demand."